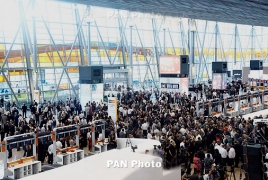 April 27, 2017 - 16:18 AMT
PanARMENIAN.Net - The Armenia-EU comprehensive air transport agreementwill lead to lower prices for air tickets and better services, head of the General Department of Civil Aviation Sergey Avetisyan said on Thursday, April 27.
The first stage of negotiations between Armenia and the European Union on the creation of the Common Aviation Area began on Thursday.
"I can't give an exact time frame for the conclusion of negotiations, but we hope to have the agreement signed as soon as possible," Avetisyan said.
"This will lead to bigger competition in the sector, which will in turn create conditions for diversification, lower prices for air tickets and improvement of the quality of services provided by carriers."
In the framework of the agreement, Armenia will join the EU Common Aviation Area. The deal will enable the parties to liberalize the market, providing air carriers an opportunity to operate various routes without limitations and enjoy equal opportunities of servicing a market of 500 million.