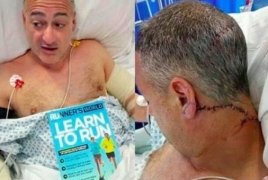 June 7, 2017 - 14:28 AMT
PanARMENIAN.Net - A defiant football fan who charged at the three terrorists and took them all on with his bare hands has been nicknamed the Lion of London Bridge for his bravery, Telegraph reports.
Roy Larner, 47, was drinking in a pub when the three terrorists burst in and he held them off so others could escape, getting fairly cut up in the process.
They chanted "Islam, Islam" and "This is for Allah".
In return, Larner shouted: "I'm f---ing Millwall!!"
He was knifed eight times before the jihadis left the Black & Blue restaurant and bar.
His friends have since gifted him a "learn to run" book, joking about how instead of saving his own life, he put himself in danger by fighting the terrorists.
He told The Sun from hospital: "They had these long knives and started shouting about Allah. Then it was, 'Islam, Islam, Islam'.
"Like an idiot I shouted back at them. I thought, 'I need to take the p--- out of these b------s'."
"I took a few steps towards them and said, 'F--- you, I'm Millwall'. So they started attacking me.
"I stood in front of them trying to fight them off. Everyone else ran to the back.
"I was on my own against all three of them, that's why I got hurt so much.
"It was just me, trying to grab them with my bare hands and hold on. I was swinging.
"I got stabbed and sliced eight times. They got me in my head, chest and both hands. There was blood everywhere.
"They were saying, 'Islam, Islam!'. I said again, 'F*** you, I'm Millwall!'
"It was the worst thing I could have done as they carried on attacking me.