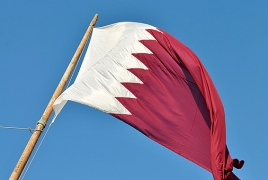 June 9, 2017 - 14:06 AMT
PanARMENIAN.Net - Arab countries put 12 organizations and 59 people on a terror sanctions list early Friday, June 9 they described as being associated with Qatar, the latest in a growing diplomatic dispute that's seen the energy rich nation isolated by Saudi Arabia and others, The Associated Press reports.
Qatar dismissed the terror listing as part of "baseless allegations that hold no foundation in fact," standing by earlier defiant statements by its top diplomat to The Associated Press that Arab nations had no "right to blockade my country."
The sanctions list further tightens the screws on Qatar, home to a major U.S. military base and the host of the 2022 FIFA World Cup, and shows the crisis only escalating despite Kuwaiti efforts to mediate an end to the rift.
Bahrain, Egypt, Saudi Arabia and the United Arab Emirates said they sanctioned the groups and individuals because of "the continuous and ongoing violations of the authorities in Doha of Qatar's commitments and obligations."
Six of the organizations are already considered militant groups in Bahrain, a Sunni-ruled, predominantly Shiite island home to the U.S. Navy's 5th Fleet and an under-construction British naval base. Bahrain has been gripped by a government crackdown on dissent for over a year now.
Among the individuals named is Youssef al-Qaradawi, an Egyptian-born cleric considered a spiritual leader of the Muslim Brotherhood, a Sunni Islamist group. Al-Qaradawi has been tried and sentenced to death in absentia in Egypt since the 2013 military overthrow of elected President Mohammed Morsi, a Brotherhood member.
Other names involving Egypt include more Brotherhood members and those once belonging to Gamaa Islamiya, an Islamist group that carried out a series of bloody attacks in Egypt in the 1990s before renouncing violence in 2000s. One is the brother of the Gamaa Isalmiya assassin who killed Egyptian leader Anwar Sadat in 1981.
Egypt separately has asked the United Nations Security Council to investigate reports that Qatar "paid up to $1 billion to a terrorist group active in Iraq" to recently free 26 hostages, including members of its ruling family, saying it would violate U.N. sanctions.
Names involving Libya include militia commanders and the Benghazi Defense Brigade, which is battling forces commanded by Gen. Khalifa Hifter, who has the backing of Egypt and the UAE amid that country's chaos. The sole Yemeni, Abdel-Wahab al-Humayqani, is the leader of a Salafi party whose has been accused by the U.S. of financing al-Qaida in the Arabian Peninsula, the terror group's branch in Yemen.
Qatar long has denied supporting or funding terror groups. However, Western diplomats accuse Qatar's government of allowing or even encouraging the funding of some Sunni extremists, like al-Qaida's branch in Syria.
Responding to the list overnight, Qatar issued a statement saying: "We do not, have not and will not support terrorist groups."
"We lead the region in attacking the roots of terrorism — by giving young people hope through jobs, replacing weapons with pens by educating hundreds of thousands of Syrian refugees and funding local community programs globally to challenge extremist agendas," it said.
In a wide-ranging interview Thursday with the AP, Qatari Foreign Minister Sheikh Mohammed bin Abdulrahman Al Thani repeatedly denied that his country funded extremists and he rejected the idea of shutting down its Al-Jazeera satellite news network, something suggested as a demand of the Arab nations.
He said Qatar, as an independent nation, also had the right to support groups like the Muslim Brotherhood, despite the fact that its neighbors view it as a threat to their hereditary rule.