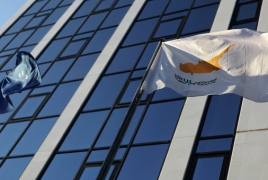 June 10, 2017 - 11:54 AMT
PanARMENIAN.Net - Greek and Turkish Cypriot leaders will return to Geneva on June 28 for talks aimed at tackling some of the thorniest issues in the way of a historic deal on the reunification of Cyprus, AFP reports.
UN Secretary General Antonio Guterres will attend the talks with Greek Cypriot leader Nicos Anastasiades, who heads the island's internationally recognized government, and his Turkish Cypriot counterpart Mustafa Akinci, the UN announced on Friday.
Guterres persuaded the two leaders to return to the negotiating table during a four-hour meeting at UN headquarters in New York on Sunday.
Guarantor powers Greece, Turkey and Britain will also attend, as will a representative of the European Union as an observer.
UN envoy Espen Barth Eide on Monday said the two-year diplomatic effort to reach a settlement was in its "final mile."
The leaders will have to decide on "giving final accommodations and concessions that haven't been given before," he said.
The UN-led talks hit a wall in late May after the sides failed to agree on the terms to advance the reunification talks toward a final summit.
A key stumbling block remains new security arrangements that would address Greek Cypriot demands for a withdrawal of Turkish troops as a priority and Turkish Cypriot insistence that other issues should be addressed first.
The negotiations are aimed at creating a new federation in Cyprus.