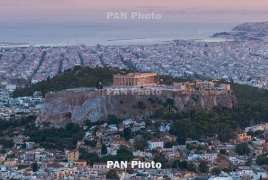 June 16, 2017 - 10:33 AMT
PanARMENIAN.Net - Eurozone ministers struck a long-delayed bailout deal with Greece on Thursday, June 15 to unlock badly needed rescue cash, but warned Athens would have to wait for debt relief, AFP reports.
After hours of talks in Luxembourg IMF chief Christine Lagarde and the eurozone's 19 finance ministers greenlit a payout of 8.5 billion euros to avoid Athens defaulting in July and avert another summer of Greek crisis.
Payment of the latest tranche of Greece's 86-billion euro ($97-billion) bailout, agreed in 2015, has been held up for months by a row over its needs for debt relief which has pitted bailout-weary Germany against the International Monetary Fund (IMF).
"I am pleased to announce we have achieved an agreement on all elements," Eurogroup head Jeroen Dijsselbloem told a news conference in Luxembourg.
"I think this is a major step forward," he added.
In a breakthrough, Lagarde agreed in Luxembourg that the Washington-based IMF would join Greece's massive bailout, but said any payouts depended on the eurozone coming up with a full debt relief plan.
"Nobody claims that this is the best solution. This is a second-best solution, but it's not a bad solution," said Lagarde, a former French finance minister.
The deal averts a repeat of the summer of 2015 when Greece spectacularly defaulted on an IMF loan, and allows Athens to meet seven billion euros of debt repayments due in July.