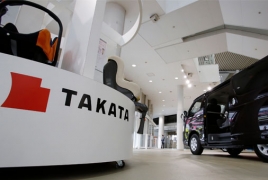 June 26, 2017 - 10:35 AMT
PanARMENIAN.Net - Embattled airbag maker Takata Corp on Monday, June 26 filed for bankruptcy protection in Japan and said it would seek $1.588 billion in financial aid from U.S.-based auto parts supplier Key Safety Systems (KSS), Reuters reveals.
The KSS deal would help it deal with the fallout from its defective airbag inflators at the centre of the global auto industry's biggest ever recall, the two companies said in a joint statement.
The filing at the Tokyo District Court followed a Chapter 11 bankruptcy protection filing in the United States.
As part of the bankruptcy protection plans, KSS would acquire all of Takata's assets barring certain assets and operations related to the airbag inflators involved in the global recall in the planned deal worth $1.59 billion.
Takata would keep operations of its affected inflators for now to continue supplying recall replacement parts, and would eventually wind down those operations, the two companies said in a statement.
"KSS is the ideal sponsor as we address the costs related to airbag inflator recalls, and an optimal partner to the company's customers, suppliers and employees," Takata CEO Shigehisa Takada said in a statement.
Jason Luo, president and CEO of KSS, said in a statement the "underlying strength" of Takata's business had not diminished despite the airbag recall.
The Tokyo Stock Exchange said shares of Takata would be delisted on July 27 after it filed for bankruptcy protection.
The stock will be suspended for all of Monday, after closing at 160 yen on Friday.