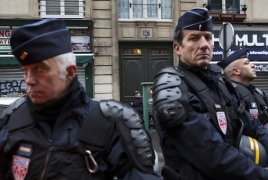 June 30, 2017 - 11:25 AMT
PanARMENIAN.Net - A man - understood to have been of Armenian origin - has been arrested after trying to ram a car into a crowd of people in front of a mosque in Paris, police have said, according to The Telegraph.
No one was injured in the attack in the Parisian suburb of Creteil.
According to Le Parisien newspaper, the man said he had wanted to avenge attacks linked to the Islamic State.
Paris police said he tried to flee the scene on foot, but was arrested. Test showed he was neither under the influence of drugs or alcohol.
He was also thwarted by other motorists driving into his path.
The man cited the November 2015 attack on the Bataclan nightclub in which 90 people died and an incident earlier this month when a heavily armed driver died in a botched suicide attack at the Champs-Elysées roundabout.
A statement released by police said: "An individual driving a 4x4 vehicle hit cones and barriers placed to protect the mosque of Créteil.
"Failing to pass the obstacles, the driver of the vehicle continued to race, crashed into a median, and then fled.
"There were no wounded among the worshippers."
Last week, a British man was charged with terrorism-related murder and attempted murder after allegedly driving a rented van into a crowd of Muslims leaving Finsbury Park mosque on the night of June 19.