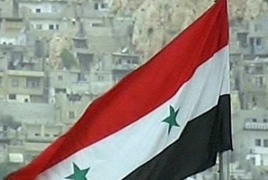 July 10, 2017 - 14:59 AMT
PanARMENIAN.Net - The UN's envoy for Syria on Monday, July 10 opened a new round of indirect talks, the seventh so far, between Syrian government representatives and opposition leaders to try to wind down the battered country's civil war, The Associated Press reports.
The start of the talks in Geneva coincided with the first full day of a cease-fire for southern Syria that was brokered last week by the United States, Russia and Jordan.
The Britain-based Syrian Observatory for Human Rights monitoring group on Monday reported fighting in the Sweida province, near the boundaries of the cease-fire zone.
However, opposition activist Ahmad al-Masalmeh said it was quiet in the city of Daraa, which has scene fierce clashes and which is located at the heart of the cease-fire zone.
The agreed-on cease-fire covers three war-torn provinces in southern Syria. It's the first tangible outcome following months of strategy and diplomacy between the new Trump administration and Russian President Vladimir Putin's Moscow.
The Geneva talks are expected to last through the week. UN envoy Staffan de Mistura declined to comment on his expectations but was due to hold a news conference later in the day.
The negotiations are indirect, with de Mistura shuttling between the warring sides. The UN envoy was first to meet with representatives from Syrian President Bashar Assad's government, before a meeting later with opposition representatives.
The UN-led diplomatic efforts seek partly to ensure humanitarian aid deliveries to Syria and plan for the day after the war is over.
The Syrian opposition is determined to achieve a political transition in Damascus, while Assad's government insists the talks should prioritize "the war on terror." Deputy Special Envoy Ramzy Ramzy said in Damascus on Saturday the talks would address both matters in parallel.
Assad's government has refused to entertain talk of his departure. He inherited power from his father, the late Hafez Assad, in 2000 and has held on despite the devastating civil war. Half of the country's population has been displaced, and some 400,000 people have been killed in the violence since 2011.