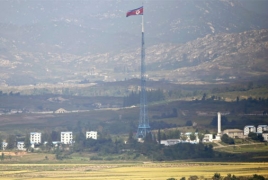 July 11, 2017 - 18:40 AMT
PanARMENIAN.Net - China hit back on Tuesday, July 11 in unusually strong terms at repeated calls from the United States to put more pressure on North Korea, urging a halt to what it called the "China responsibility theory", and saying all parties needed to pull their weight, Reuters reveals.
U.S President Trump took a more conciliatory tone at a meeting with Chinese President Xi Jinping on Saturday, but he has expressed some impatience that China, with its close economic and diplomatic ties to Pyongyang, is not doing enough to rein in North Korea.
That feeling has become particularly acute since Pyongyang launched an intercontinental ballistic missile that some experts believe could have the range to reach Alaska, and parts of the U.S. West Coast.
Asked about calls from the United States, Japan and others for China to put more pressure on North Korea, Chinese Foreign Ministry spokesman Geng Shuang said it was not China ratcheting up tension and the key to a resolution did not lie with Beijing.
"Recently, certain people, talking about the Korean peninsula nuclear issue, have been exaggerating and giving prominence to the so-called 'China responsibility theory,'" Geng told a daily news briefing, without naming any parties.
"I think this either shows lack of a full, correct knowledge of the issue, or there are ulterior motives for it, trying to shift responsibility," he added.
China has been making unremitting efforts and has played a constructive role, but all parties have to meet each other half way, Geng said.
"Asking others to do work, but doing nothing themselves is not OK," he added. "Being stabbed in the back is really not OK."
While China has been angered by North Korea's repeated nuclear and missile tests, it also blames the United States and South Korea for worsening tension with their military exercises.
China has been upset with the U.S. deployment of an advanced anti-missile system in South Korea too, which it says threatens its own security and will do nothing to ease tensions.
Additionally, Beijing has complained about Washington putting unilateral sanctions on Chinese companies and individuals for their dealings with North Korea.
Geng questioned how China's efforts could bear fruit if, while it tried to put out the flames, others added oil to the fire, and if, while it enforced U.N. resolutions, others harmed its interests.
Everyone needed to accept their responsibilities to get the North Korea issue back on the correct track of a peaceful resolution through talks, he added.
"The 'China responsibility theory' on the peninsula nuclear issue can stop," Geng said.