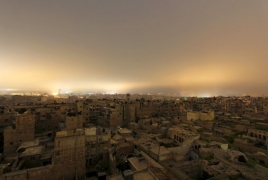 July 13, 2017 - 10:52 AMT
PanARMENIAN.Net - A temple built some six centuries ago in the Christian quarter of Aleppo and belonging to the Armenian Apostolic Church is being restored, as Syria's second biggest city is trying to brace the peaceful life, NTV reports.
Although the temple is an Armenian one, Orthodox Christians from Russia, Ukraine and Belarus used to visit the church and light candles there.
The Forty Martyrs Armenian Cathedral was built in the 15th century in the old Christian quarter of Jdeydeh. A three-nave basilica church with no dome, it was partially destroyed in a suspected terrorist bombing or artillery attack on April 28, 2015.
As a result, the church is not operating now, with the priests having been transferred to other temples throughout Aleppo.
The custodian of the shrine is confident, however, that Armenians won't ever leave the church in trouble.
Restoration activities are planned to begin in late July, with the pink tuff set to be delivered from Armenia.