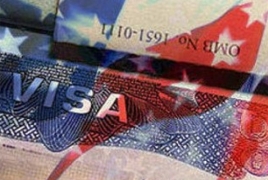 July 13, 2017 - 16:34 AMT
PanARMENIAN.Net - An Iranian cancer researcher who was denied entry to the U.S. previously headed a student branch of volunteer paramilitary militia, footage aired on state television Thursday, July 13 showed, according to The Associated Press reports.
State television showed Mohsen Dehnavi arriving back in Tehran alongside his wife and children. In comments to the channel at the airport, he defended his travel to the United States as solely intended for science and research.
"The topic of our research was health and saving ill people fighting cancer from this dangerous disease, but they didn't allow us entry, despite, as I mentioned, all the efforts made by the American academic community," he said.
Dehnavi was detained at Boston's Logan International Airport along with his wife and three young children upon arrival Monday, and were sent back to Iran the following day despite holding a J-1 visa for visiting scholars. He was expecting to take up work at Boston Children's Hospital.
The U.S. Customs and Border Patrol has said the family's detention was for "reasons unrelated" to President Donald Trump's executive order on travelers from several predominantly Muslim countries, including Iran. It did not say why specifically the family was turned back.
The Supreme Court recently ruled the Trump administration could largely enforce its temporary ban on travelers from Iran, Libya, Somalia, Sudan, Syria and Yemen. But the court said the ban can't block people with a "credible claim of a bona fide relationship with a person or entity in the United States."
The state TV footage showed that Dehnavi was the same man who was featured in a years-old report by the semi-official Fars news agency on his being named the head of the student branch of the Basij at Iran's Sharif University in September 2007. The Basij is a volunteer militia that is linked to Iran's Revolutionary Guard.
He later served on the unsuccessful 2013 presidential campaign of a prominent hard-liner, former nuclear negotiator Saeed Jalili.
Dehnavi said on arrival in Tehran that he and his family were detained for around 30 hours in Boston.
"They kept me and my family under detention-like conditions for 28 to 30 hours in a room," he said. "They didn't allow us to call anyone or exit the room."