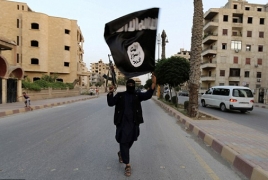 July 14, 2017 - 12:16 AMT
PanARMENIAN.Net - The Islamic State group on Thursday, July 13 said two of its members were responsible for attempted attacks in Paris and Brussels last month, AFP reports.
In a new edition of its multilingual magazine "Rumiyah", released on the group's propaganda channels, IS said it was behind the two previously unclaimed operations which did not kill anyone.
On June 19, a known radical Islamist rammed a car laden with weapons and gas canisters into a police van on Paris's Champs-Elysees avenue.
The driver, 31-year-old Adam Djaziri, died in the attack but no one else was injured.
He had mailed a letter to his family just beforehand saying he had wanted to travel to Syria and complaining he had been stopped from doing so "by apostates against the Islamic State".
The following day, a bomb went off at a Brussels train station, without causing casualties.
The suspect, identified by authorities as a 36-year-old Moroccan, was shot dead by a soldier. Belgian investigators said there were "indications that the suspect had sympathies for the terrorist organisation IS".
Rumiyah magazine identified both perpetrators as "soldiers of the caliphate" as part of a list of attacks carried out during the Muslim holy month of Ramadan.
IS regularly calls for its supporters to carry out attacks during Ramadan.