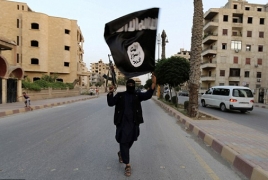 August 14, 2017 - 13:44 AMT
PanARMENIAN.Net - The Islamic State launched a large-scale attack in the Deir ez-Zor Governorate on Sunday, August 13, targeting the Syrian Arab Army's (SAA) positions near the military airport, Al-Masdar News reports.
IS began the offensive by storming the Syrian Army's defenses near the Al-Ta'meen Base that is located west of the Deir ez-Zor Airport.
While the Islamic State failed to advance near the Al-Ta'meen Base, they would later launch a big attack on the airport from their positions at the Thardeh Mountains.
Intense clashes are currently ongoing near the eastern slope of the Thardeh Mountains, as the Islamic State continues to press the Syrian Army's positions at the Deir ez-Zor Airport.
According to a military source in the Governorate, the Syrian Arab Army destroyed one 23mm anti-aircraft machine gun and killed over ten Islamic State terrorists thus far.
The source added that the Islamic State is likely going to launch several more attacks in the Deir ez-Zor Governorate, as their reinforcements from Al-Sukhnah and east Hama continue pouring into the province.