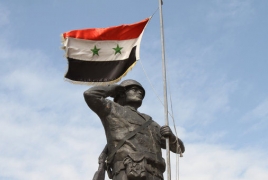 August 26, 2017 - 15:05 AMT
PanARMENIAN.Net - Three ceasefire violations were registered in Syria over past 24 hour, the Russian Defense Ministry reported in a daily bulletin on Saturday, August 26, TASS reports.
"Control groups continue monitoring the ceasefire observation within the implementation of the Memorandum on creation of the de-escalation zones in the Syrian Arab Republic, which had been signed by Russia, Turkey, and Iran on May 4, 2017," the ministry said. "The situation in the de-escalation zones is assessed as stable."
"Within the last 24 hours, the Russian party of the Russia-Turkey Commission on violations of the Joint Agreement has registered two cases of firing in the provinces of Aleppo," the bulletin reads. "The Turkish party has registered one case of ceasefire violation in the province of Homs."
"Most cases of unselective firing from small arms have been registered in the areas controlled by insurgents of the Islamic State and Jabhat al-Nusra terrorist groupings," the Defense Ministry said. "Total number of inhabited areas, the leaders of which had signed reconciliation agreements is 2, 2211. Negotiations on joining ceasefire regime have been continued with field commanders of detachments of armed opposition in the Aleppo, Damascus, Homs, Hama, Idlib and al-Quneitra provinces."
The number of armed formations, claiming they observe the ceasefire regime, is 229, the ministry said.