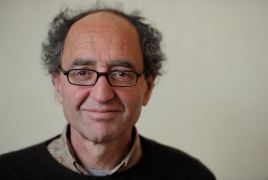 August 31, 2017 - 15:13 AMT
PanARMENIAN.Net - A Turkish-born German writer facing extradition from Spain to Turkey, which accuses him of "terrorism", on Wednesday, August 30 urged Madrid not to send him to a country that is "slipping towards fascism", AFP reports.
Dogan Akhanli is among the Turkish intellectuals who have recognized the Armenian Genocide.
Akhanli, who has lived in Germany since 1991, was arrested August 19 while on holiday in Granada in southern Spain, on the basis of an Interpol "red notice" from Turkey, in a case that has further strained German-Turkish relations.
Turkish authorities accuse the 60-year-old writer of "terrorism", his lawyer Gonzalo Boye said.
Berlin protested and a Madrid court freed Akhanli on August 20 but ordered him to stay in Spain and report to the authorities weekly, while Turkey has 40 days to send a formal extradition request.
"How can they consider deporting me to Turkey, a country that is slipping towards fascism, when Spaniards themselves must have learned from history what this means for mankind," he said at a Madrid news conference, referring to Franco dictatorship in Spain from 1939 to 1975.
Germany has dismissed the case against Akhanli as politically motivated, and Chancellor Angela Merkel warned President Recep Tayyip Erdogan's government not to "misuse" Interpol to pursue its critics.
Akhanli said he believed Turkey ordered his arrest because "I express myself out loud, and because I write books about the Armenian genocide and the rights of the Kurds", Turkey's largest ethnic minority group.