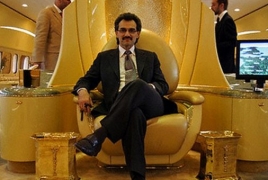 September 4, 2017 - 12:10 AMT
PanARMENIAN.Net - The grandson of Ibn Saud, the first Saudi king, one of world's most influential people Al-Waleed Bin Talal bin Abdulaziz al Saud, commonly known as Al-Waleed, is a descendant of an Armenian Genocide survivor.
The prince was born to Prince Talal and Mona Al Solh.
Al-Waleed's grandmother was named Munaiyir, whose family escaped the Armenian Genocide in the Ottoman Empire between 1915 and 1923. She was presented to Ibn Saud in 1921, when they were 12 and 45 years old, respectively.
According to some sources, Munaiyir was regarded by British diplomats in Saudi Arabia as one of King Abdulaziz's favourite wives. She was as known for her intelligence as for her beauty.
Al-Waleed is the founder of the Kingdom Holding Company which carries out investments in companies in the financial services, tourism and hospitality, mass media, entertainment, retail, agriculture, petrochemicals, aviation, technology and real-estate sectors.