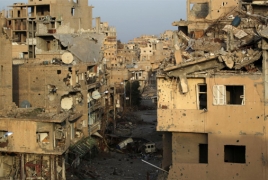 September 5, 2017 - 15:59 AMT
PanARMENIAN.Net - Syrian government forces advanced against Islamic State on Tuesday, September 5 to reach troops surrounded for years by the jihadists in a government-held enclave in the eastern city of Deir ez-Zor, pro-Damascus media outlets and a monitoring group reported, according to Reuters.
"The Syrian army and its allies break the siege on Deir ez-Zor," a military media unit run by Syria's ally Hezbollah said.
State television and the British-based Syrian Observatory for Human Rights also reported that advancing Syrian forces had linked up with government troops in Deir ez-Zor.
The army and its allies had made lightning advances in recent days and pushed through Islamic State lines to within kilometers of Deir ez-Zor.
Islamic State had since 2014 besieged the government-held enclave, where some 93,000 civilians live and an army garrison is stationed.
Deir ez-Zor is located southeast of Islamic State's former stronghold Raqqa, most of which has been captured in a separate offensive by U.S.-backed Syrian militias.
Islamic State fighters are believed to have fled to areas around Deir ez-Zor as the group loses areas of Raqqa.
Both cities lie in oil-rich areas on the Euphrates river.