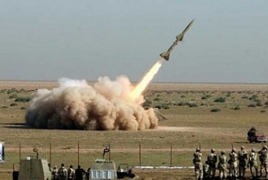 September 7, 2017 - 11:38 AMT
PanARMENIAN.Net - At approximately 2:42 A.M. (Damascus Time) on Thursday, September 7 morning, several Israeli missiles traveling across Lebanon struck the Syrian military and the scientific research facility in the northeast Tartous city of Masyaf, Al-Masdar News reports.
According to the Syrian Arab Army's official statement, the Israeli missiles killed at least two soldiers and several more were wounded after the missiles scored direct hits on their intended targets.
Syria's general command has warned of "dangerous repercussions of this aggressive action to the security and stability of the region" while reiterating its "resolve and determination to crush terrorism and uproot it from all the territory of the Syrian Arab Republic" regardless of the groups' allegiances and sources of support.
This latest attack by the Israeli forces comes just 48 hours after the Syrian Arab Army achieved a strategic victory against the Islamic State in the Deir ez-Zor Governorate.