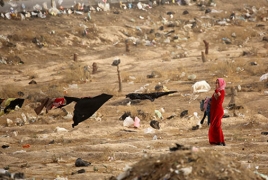 September 11, 2017 - 14:57 AMT
PanARMENIAN.Net - Iraqi authorities are holding about 1,400 foreign wives and children of suspected Islamic State fighters in a camp after government forces expelled the group from one of its last remaining strongholds in Iraq, security and aid officials said, according to Al Jazeera.
Many of them say they are from Russia, Turkey and Central Asia, but there are also some from European countries, the officials said.
They have mostly arrived at the camp south of Mosul since August 30.
An Iraqi intelligence officer said that they were in the process of verifying their nationalities with their home countries, since many of the women no longer had their original documents.
It is the largest group of foreigners linked to the Islamic State of Iraq and the Levant (ISIL, also known as ISIS) group to be held by Iraqi forces since they started expelling the fighters from Mosul and other areas in northern Iraq last year, an aid official said.
Thousands of foreigners have been fighting for IS in Iraq and Syria.