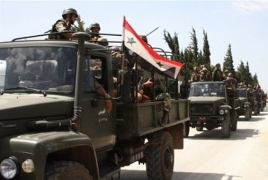 September 14, 2017 - 14:44 AMT
PanARMENIAN.Net - On Thursday, September 14, the Syrian Arab Army (SAA) officially secured a buffer zone around the newly liberated airport at the eastern city of Deir ez-Zor, Al-Masdar News said.
According to reports, the SAA's Tiger Forces (elite assault troops) are storming through the Baghiliyah District and have so far captured the Al-Jazeera University, Al-Rawad area, Baghiliyah fuel station and the district's main street.
A source said that approximately 80% of the neighborhood has been brought under government control while a few dozen IS insurgents remain bogged down in isolated houses on the western bank of the Euphrates River.