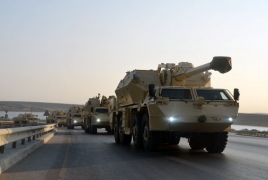 September 18, 2017 - 12:36 AMT
PanARMENIAN.Net - Azerbaijani armed forces launched large-scale exercises on Monday, September 18. In a video posted online, Dana 152-mm self-propelled artillery systems and RM-70 rocket launchers are visible. Both models are produced in the Czech Republic.
First introduced in 1977, Dana systems have a firing range of 19 km, with the upgraded version capable of firing at 25.5 km. The system weighs about 29 tons.
The RM-70 is a 40-tube multiple rocket launcher with 122-mm rockets. In fact, it is a modification of the ML-21 Grad. The system is installed on a TATRA 815 chassis. The maximum range of fire with standard projectiles is 21 km.
Georgian armed forces possess both types of weapons which were used during military collision with Russia in 2008.