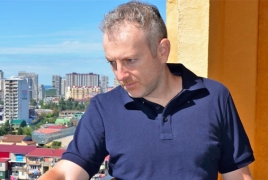 September 19, 2017 - 18:11 AMT
PanARMENIAN.Net - Russian-Israeli blogger Alexander Lapshin, who has recently returned to Israel after being released from an Israeli prison, said that doctors' exams have confirmed that Baku's scenario of Lapshin's alleged attempted suicide are false.
Shortly after his release, Azerbaijan declared that Lapshin had attempted to commit a suicide while in the Baku jail, which the blogger denied in a Facebook post.
"I have been at Rambam Health Care Campus in Haifa all day long collecting documents on violence in the Azerbaijani prison," Lapshin said in a Facebook post.
"Doctors agreed that Azerbaijan's scenario about the suicide attempt does not survive criticism, while the signs of beating are obvious."
Lapshin was sentenced by the Baku court on grave crimes on July 20, 2017 over his visit to Nagorno Karabakh.
The blogger was detained in the Belarusian capital of Minsk in December 2016 at Baku's request. He was flown to Baku on February 7 and handed over to the Azerbaijani State Security Service. Azerbaijan's prosecutors opened criminal cases against him envisaging jail terms of between five and eight years.