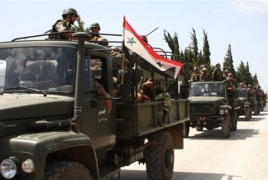 October 4, 2017 - 12:32 AMT
PanARMENIAN.Net - One week ago, the Islamic State group launched a powerful multi-front offensive against the Syrian army in eastern Syria. The offensive, code-named 'Abu Mohammad al-Adnani,' saw the jihadist faction take control of large sections of the M20 highway and make threatening gains in the direction of as-Sukhnah and the T-3 military airport, Al-Masdar News writes in a recap of the military situation in the country for the past week.
Pro-government forces quickly counter-attacked and have since reversed most IS gains.
The first thing worth clarifying is that the strategic towns of Kattajb and ash-Shoula – situated along the M20 highway – are in the hands of pro-government forces, with attacking IS militants being expelled from them several days ago.
Furthermore, the front-lines around as-Sukhnah and the T-3 military airport have returned to what they were prior to the Islamic State offensive; here the Syrian Arab Army and Hezbollah repelled several ferocious IS raids against both strategic locations.
The Syrian army successfully re-secured as-Sukhnah from IS by taking back control of the al-Hayl Gas Field (southwest of the town) from jihadist militants two days ago.
However, the section of M20 highway from as-Sukhnah and Deir ez-Zor city remains closed due to the fact that IS still controls a five kilometer length of road between as-Sukhnah and Kattajb. Operations by army forces are still ongoing to re-establish full control over the M20 highway.
Also under the thumb of ISIS is the town of al-Qaryatayn, which was captured by hundreds of IS sleeper agents placed well behind the Syrian Army's front-lines in what appears to have been a Marawi-style operation.
Pro-government forces currently have the al-Qaryatayn completely surrounded and are in the process of reducing Islamic State defenses with artillery strikes in order to create safer conditions for the eventual storming of the town with infantry and armor.