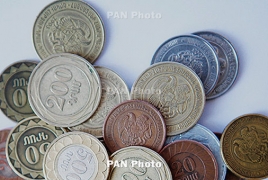 October 19, 2017 - 17:26 AMT
PanARMENIAN.Net - The World Bank has in a fresh report forecast a 3.7% GDP growth for Armenia in 2017, 3.8% in 2018 and 4.0% in 2019.
Under these circumstances, the poverty rate would decline further to 11.0% in 2019.
In the current year, inflation is set to stand at 1.0%
Growth and poverty reduction prospects over the medium term remain positive in the country but subject to significant uncertainty, as risks on external and domestic political fronts remain high.
Azerbaijan's economy, on the other hand, is projected to contract by 1.4% in 2017, despite the increase in oil prices.
Armenia's economy is set to grow by 4.3% this year, more than an earlier estimate of 3.2%, the country's finance minister Vardan Aramyan said earlier.