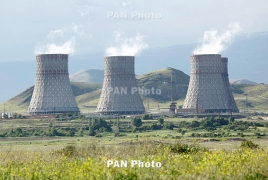 November 1, 2017 - 18:49 AMT
PanARMENIAN.Net - The Metsamor nuclear power plant will operate at least until 2027, Armenian president Serzh Sargsyan said in an interview with RIA Novosti, adding that speculations about the closure of the station are artificial and have nothing to do with reality.
"In the draft agreement with the EU, the paragraph in question takes into account the objective operational life of Metsamor NPP," the president explained.
"The Armenian government decided in March 2014 to extend the plant's life. The project will be financed with a Russian state export credit of $270 million and a grant of $30 million. Work is currently underway with Rosatom for extending the lifetime of the second power unit. What is more important, however, is that the NPP operates in full accordance with the IAEA criteria, according to relevant international agencies. Alongside modernization, measures are being taken to improve the operational safety. So the Metsamor NPP will work at least until 2027."
He confirmed once again that after signing the agreement with the EU in November, the nuclear power plant won't be closed down.
"No such paragraph is included in the agreement," he said.