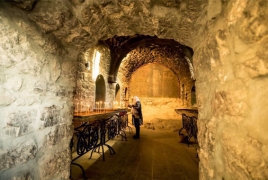 November 2, 2017 - 16:14 AMT
PanARMENIAN.Net - Armenia was one of the stops of luxury travel company Abercrombie & Kent's Wonders of the World by Private Jet journey which spanned eight countries.
According to tweets by the company's founder and CEO Geoffrey Kent, the $147,000 twenty-four day trip, beginning in Los Angeles and culminating in New York, offered a host of activities in Armenia.
The guests started their tour in the capital, Yerevan, a city with a history stretching back further than Rome's.
The introduction to Armenia began with visits to the Cascade, the Cafesjian Modern Art Museum, the Cathedral and the museum of Etchmiadzin. A tour of the Zvartnots temple features a performance of the famous Armenian duduk and an Armenian Drums performance. During a visit to the Yerevan Brandy Factory, the guests tasted several vintages of Armenia's famous brandy, also gaining an insight into the everyday life of the Armenian people while strolling through the streets of Yerevan.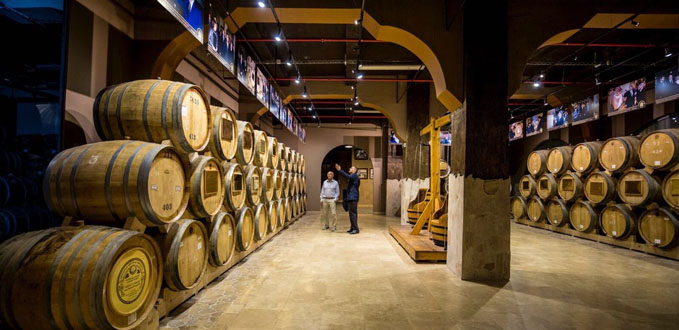 In addition, Malkhas Jazz Club was visited as a place to see and be seen in the capital city.
The next day, they visited the Geghard Monastery and enjoyed a vocal performance at the acoustic hall of the church. At Garni, the tourists explored the temple and took part in an Armenian breadmaking (lavash) ceremony and tasting at the Rustic House, followed by traditional music, dances and food.
In the evening, they attended a private ballet performance of Gayane, the best known work of Armenian composer Aram Khachaturian, which includes the famous Saber Dance.
Also, Kent's personal pictures on Twitter reveal visits to Khor Virap monastery, Parajanov Museum in downtown Yerevan, as well as the Armenian Genocide memorial.
The private jet flights were performed using a Boeing 757-200ER aircraft with 50 first-class, VIP-style seats from Los Angeles, California, routing via Honolulu, Hawaii; Papeete, Tahiti; Auckland, New Zealand (technical stop); Hobart, Tasmania; Kota Kinabalu, Borneo; Kathmandu, Nepal; Yerevan, Armenia; Reykjavik, Iceland; New York, New York, USA. The air carrier for the private jet flights will be Icelandair. Additionally, local charter flights will be used for transportation and excursions in Hawaii, French Polynesia, Tasmania, Malaysia, Bhutan and Nepal.