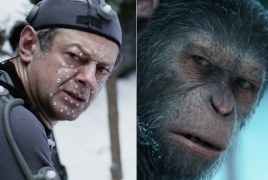 November 7, 2017 - 12:44 AMT
PanARMENIAN.Net - Andy Serkis is known as one of the world's best performance capture actors. Serkis explains visual effects studio, Weta, has 17 years' worth of data on his face which allows them to match what he does to the computer generated characters.
In a conversation with the BBC, he admitted that computers could take over from actors in films but that it's not going to be probably very good.
"Algorithms can, if we let them, take over everybody's job and everybody's livelihood," he said.
"There are script-writing packages which are algorithmically driven now, so that you type in a place, a character, a thing and then you press go and then it'll write a story for you.
"I mean it's not going to be probably very good but maybe in a thousands years time it will be amazing. I am sure that everything is capable of being driven by algorithms because it's all about data at the end of the day. I know that Weta have 17 years of data of my face which is why now the amount of information allows them to match what I do to a closer degree."
Born and raised in Ruislip, his mother was English and his father an Iraqi gynecologist of Armenian descent.