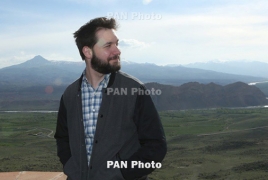 November 8, 2017 - 14:33 AMT
PanARMENIAN.Net - Nicki Swift presents an article about Reddit co-founder Alexis Ohanian, providing interesting details from the tech entrepreneur's personal and professional achievements.
First of all, he is Armenian.
Much like the Kardashian clan, as well as singer Cher and tennis star Andre Agassi, the computer mogul is of Armenian descent. In fact, he was born on the same day as the annual Armenian Genocide Remembrance Day.
His ancestry is very important to him. Ohanian has visited Armenia several times, first with a Kiva fellowship, and helped set up TEDx Yerevan in 2010. "I ended up being born in Brooklyn, but I could've been born in Yerevan, or probably somewhere in Western Armenia," he once said. "I want my knowledge to help as many people as possible, but especially my fellow Armenians."
Nice guys finish first
Whether it is in an interview, on social media, or on Reddit, Ohanian comes across as a genuinely nice guy, a claim that has been backed up by Williams herself. "He's incredibly — a really nice person," she said, according to People. "I think he definitely treats everyone the same, which is really cool to see. Really, really nice to see."
How a meal at Waffle House changed his future
Ohanian grew up in Ellicott City, MD, and spent most of his spare time on the Internet, playing games, doing web design, and chatting online. "In school, I was just a kid, he shared with Inc. magazine in 2012. "Online, I had authority."
He met future Reddit co-founder Steve Huffman on move-in day at the University of Virginia in 2001. They were complete opposites; Huffman was an engineering major, while Ohanian majored in history and also studied commerce. But they hit it off immediately, finding shared interest in gaming and computing. Huffman described his business partner of looking "grungy" then, but said "he was very charming," right from the beginning.
Ohanian changed the trajectory of his life in his junior year, when he was studying to take the LSAT to be an immigration lawyer. "I flipped over my test and thought, You b******. I walked out and went to Waffle House. That's where I had what I call The Waffle House Epiphany," he told Inc. "I didn't want to be a lawyer. I wanted to make a dent in the universe." Or, as he describes his philosophy on his social accounts and website, "making the world suck less."
He co-founded Reddit in college
After Ohanian pulled the plug on becoming a lawyer, he and Huffman decided to develop a way to order meals online. He told Inc. magazine that they reached out to Paul Graham of Y Combinator, a startup incubator, to see if he would be interested in their MyMobileMenu idea.
It took just three weeks to build Reddit. "It was just Web links and text submitted by users," Ohanian said, "with Interesting or Uninteresting buttons that you could click on underneath." Later, they added the ability to comment. Huffman would later describe their partnership by claiming, "I made Reddit, and Alexis made Reddit cool."
His personal life fell apart after Reddit launched
Although Ohanian's professional life was skyrocketing around the time of Reddit's launch, his personal life was falling apart at the seams. According to the New York Times, Ohanian's girlfriend at the time had attempted suicide by jumping out of a window in Germany. In September 2005, the Times also reports that his mother had a seizure the day they put down their family dog. The seizure led the family to discover that Ohanian's mother had terminal brain cancer.
"My mother was diagnosed with a class IV Glioblastoma multiforme. Such an ugly name," Ohanian wrote in a personal blog entry. "I remember the first time I googled it, hoping I could search my way to a cure. But it basically meant terminal brain cancer."
"She was 51 when she was diagnosed," he continued. "I flew down to Maryland first thing the next morning. And you know the first thing she told me? 'I'm sorry. Sorry because I know how much you've already been through.'"
He sold Reddit in part because of his mother
Just 16 months after Reddit started, Conde Nast bought Reddit, paying somewhere "between $10 million and $20 million" for the website, Ohanian coyly told Inc. What caused Ohanian to suddenly cash out? According to the New York Times, part of the reason had to do with his mother's health. She died less than two years after Conde Nast's purchase, according to the report.
While his mother was battling cancer, Ohanian wrote that he often traveled between Boston and Maryland to be by his mother's side. "Every time I left her side, I was energized by her courage and unflagging spirit. She gave me all the inspiration I needed to wake up every morning and kick some ass, because that's what you have to believe as a startup founder.
He has since founded several businesses
According to Inc., Ohanian stayed at Reddit for three years after the sale to Conde Nast. Afterward, he and Huffman came up with the idea for a travel search engine called Hipmunk. The goal, in Ohanian's words, was to "take the agony out of online travel search."
He and Huffman also co-founded Breadpig, which Ohanian said drew inspiration from Oscar-winning actor Paul Newman. "I'd always been impressed with what Paul Newman had done with Newman's Own—he's really the OG of social enterprise," he told Inc. "So, in that model of selling things and giving extra profits to charities, like Newman's Own, Breadpig was born. Today you can buy, say, a geek comic book, and that helps fund the Khan Academy or Donors Choose."
Ohanian is an angel investor with his organization Das Kapital Capital, which provides money and advice to startup businesses. He also started Initalized Cap, a venture capital company. In addition, he has been heavily involved in measures to protect Internet privacy, something he wrote about in his 2013 book Without Their Permission.
He's now back at Reddit
Over the years, both Ohanian and Reddit co-founder Steve Huffman regretted selling the company too soon. CNBC reports that they later returned to help run the site a decade after selling it, in part to help quell the brouhaha about controversial content and in-fighting. The site set up "rules of the road" to help keep comments more civil.
That wasn't the only reason. As Ohanian told Fast Company, "There was a strong sense that it was not living up to its full potential, and we felt like Reddit was never going to live up to its full potential unless we boomeranged." Smart thinking. In 2017, Internet ranking system Alexa had Reddit as the fourth most popular website in the U.S.
Incidentally, Serena Williams helped influence the changes made to Reddit when Ohanian returned. "She was not a Redditor [user of the site] when we first met and I'll never forget one of the first things she asked me was why is there no app," he told AdAge. "And I was like, 'Touché.' So that's something she showed me."
How he met Williams
According to Us Weekly, Ohanian and Williams first met at a lunch in 2015. Sharp-eyed Redditors spotted him on TV at Wimbledon in 2015 before the world knew that they were dating.
In a Reddit post confirming her engagement in 2017, Williams traced their lunch back to Rome, where Ohanian ultimately proposed. "I came home a little late," she wrote, in the style of a poem. "Someone had a bag packed for me. And a carriage awaited."
She continued: "Destination: Rome, To escort me to my very own 'charming,' back to where our stars first collided. And now it was full circle: at the same table we first met by chance. This time, he made it not by chance, but by choice: down on one knee, he said four words. And [I said yes]."