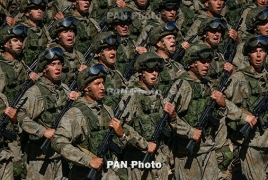 November 14, 2017 - 11:13 AMT
PanARMENIAN.Net - The Russian Armed Forces unleashed a massive assault on the Islamic State's (ISIS) positions in southeastern Deir ez-Zor this past weekend, Al-Masdar News reports.
Relying on their advanced jets, the Russian Air Force carried out dozens of airstrikes over the Albukamal region of Deir ez-Zor, inflicting heavy damage on the Islamic State's already battered defenses.
With the Islamic State's defenses deeply fractured, the Syrian Arab Army's Tiger Forces were able to make significant progress along the Mayadeen-Albukamal Road, liberating more than 30 km of territory from the militants on Sunday.
In order to keep up the pressure on the Islamic State, the Russian Air Force has also began launching night raids over the southeastern countryside of Deir ez-Zor.
These night raids by the Russian Air Force have proven incredibly effective, as the Islamic State has been unable to fortify their positions at Albukamal, which greatly benefits the Syrian Army.
When the Syrian Army first seized Albukamal, it was done without much help from the Russian Air Force; this was because Iran's Islamic Revolutionary Guard Corps (IRGC) was leading the operation.
However, after failing to secure the city, the Russian military stepped in to aid the government forces in their imperative counter-offensive to regain control of Albukamal and its surroundings.
The Russian Air Force has already provided a major boost to the Syrian Army in this region and they will likely play an instrumental role in the eventual liberation of the Mayadeen-Albukamal Road.