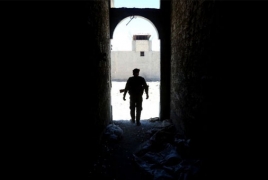 November 14, 2017 - 14:23 AMT
PanARMENIAN.Net - On the 65th day of operation Al-Jazirah Storm, the Syrian Democratic Forces (SDF) pushed further southwards along the eastern side of the Euphrates River amid clashes with Islamic State insurgents, Al-Masdar News reports.
Following the liquidation of two rearguard Islamic State pockets in eastern Deir ez-Zor last week, the Kurdish-led SDF took control of Shahil overnight. This frontier village is located 40 kilometers southeast of Deir Ezzor City.
Following the shootout and assault of the village, 11 IS militants were neutralized and a pickup truck destroyed. In the aftermath, the US-supported SDF captured a handful of Kalashnikovs from the deceased jihadists.
Meanwhile, the Syrian Arab Army (SAA) is about to push southwards along the western side of the Euphrates River. Effectively, the future border between the SAA and SDF is about to be established.