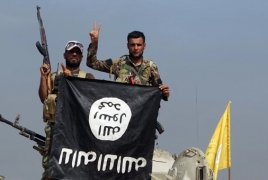 November 24, 2017 - 13:56 AMT
PanARMENIAN.Net - After being on its last legs and suffering a series of setbacks in Hama province, the Islamic State group has suddenly turned the tides amid a large-scale retreat by Hay'at Tahrir Al-Sham (HTS) and allied opposition factions, Al-Masdar News reports.
On Thursday, November 23, militants loyal to the Islamic State took control of six new villages located in northeast Hama, namely: Rasm Ad Dahl, Abu Al-Khair, Buyad As Şaffaf, Rasm Al-Tawl Al-Sharkiyah and Tiwal Ad Dabaghin. These villages were formerly under HTS control but were abandoned without a fight by the latter.
This expanding IS enclave, now made up of 20 villages along the provincial border between Hama and Idlib, is squeezed between territory controlled by HTS and the Syrian Arab Army (SAA), far away from the Islamic State mainland in eastern Syria.
At one point earlier this month, IS controlled just 3 villages in northeast Hama that were under attack by rival factions; however, HTS has found itself unable to maintain large numbers of fighters in all areas under its control, forcing it to concede some villages and rely heavily upon reinforcements from the Turkistan Islamic Party (TIP) and a handful of Free Syrian Army (FSA) factions.
From a strategic perspective, IS hopes to relocate its caliphate in the largely Sunni province of Idlib where large parts of the conservative rural population are sympathetic to Sharia rule and hundreds of IS sleeper cells are found underground.