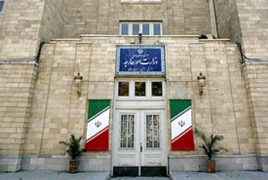 November 30, 2017 - 17:56 AMT
PanARMENIAN.Net - A spokesman for the Iranian foreign ministry said on Thursday, November 30 that the U.S. repetition of the "baseless accusasion" against the Islamic Republic shows they are worried and shocked at Daesh (Islamic State) fall, IRNA reports.
"Over-repeating the claims against Iran shows that the U.S. authorities have either purposely turned a blind eye to the reality of Daesh defeat in Iraq and Syria or are surprised and worried at the fact that the terrorist group has lost its territory and dominance in some parts of Iraq and Syria," said Bahram Qasemi, reacting to the recent remarks made by Vice President of the United States Mike Pence.
Qasemi said, "Accusing Iran of supporting terrorism by the U.S. authorities takes place while we have always known the security of the region as 'our own security', and it has been five years since we, responsibly and with the purpose of safeguarding the stability and security in the region, stood by the Iraqi and Syrian governments and peoples."
He added that neither any individual nor any country "can deny Iran's constructive role in fighting the ominous phenomenon of terrorism."
Saying that the US' behavior is the reason of instability, insecurity, complication of security situation, and expansion of terrprism in the Middle East, Qasemi added, "The only way to purge the Middle East from terrorism, tensions, and disastrous wars is dialog, cooperation and trust among the countries of the region."
He also said he wanted the extra-regional countries not to fan the flames if they don't play a constructive role in the region.
"Surely, security, peace, respecting the countries' sovereignty, avoiding interfering in the countries' internal affairs, fighting terrorism, and not having multiple standards are in the benefit of all the people and countries of the world."