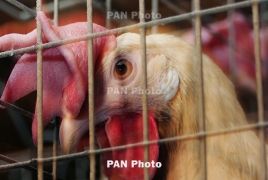 December 5, 2017 - 17:31 AMT
PanARMENIAN.Net - Researchers at the Ben-Gurion University of the Negev in Israel are championing the use of poultry poop as fuel for heat and electricity, Geek reports.
When treated and converted to combustible solid biomass fuel, turkey, chicken, and other domesticated bird feces could replace about 10 percent of the coal currently used in electricity generation.
Existing renewable energy solutions like biomass (which releases harmful carbon emissions) and energy crops (that put a strain on land, water, and fertilizer resources) are in need of a remodeling.
And scientists at the Zuckerberg Institute for Water Research at BGU just might have a solution.
"Environmentally safe disposal of poultry excrement has become a significant problem," according to a study published last month in the journal Applied Energy.
As the world's population—and it's need for animal protein—grows, so does the production of waste, also known as poultry litter (a mix of excreta, spilled feed, feathers, and bedding material). The medley has long been recycled as fertilizer or cattle feed (mmm), and recently saw an uptick in its use as biofuel.
"Converting poultry waste to solid fuel—a less resource-intensive renewable energy source—is an environmentally superior alternative that also reduces reliance on fossil fuels," the study said.
Led by professor Amit Gross, chair of the Department of Environmental Hydrology and Microbiology at the Zuckerberg Institute, a team analyzed two biofuel types to determine which is the more efficient poultry waste solid fuel.
The results were positive.
"We found that poultry waste processed as hydrochar produced 24 percent higher net energy generation,"Ph.D. candidate Vivian Mau said in a statement.
The solid product of hydrothermal carbonization (HTC), BGU's hydrochar generates heat at high temperatures, and mimics natural coal formation—"an important factor in replacing it as a renewable energy source," Mau added.
Higher HTC production temps resulted in a "significant" reduction in emissions of methane and ammonia, and an increase in carbon dioxide and carbon monoxide (which isn't all bad; it helps form ground-level ozone).
"This investigation helped in bridging the gap between hydrochar being considered as a potential energy source toward the development of an alternative renewable fuel," Gross said. "Our findings could help significantly reduce greenhouse gas emissions associated with electricity generation and agricultural wastes."