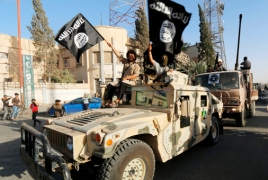 December 13, 2017 - 16:03 AMT
PanARMENIAN.Net - The Islamic State's (IS) is not giving up on their self-proclaimed 'caliphate' despite several setbacks inside Syria and Iraq, Al-Masdar News reports.
To counter their losses in Syria and Iraq, the militant group has launched a massive offensive in the province of Deir ez-Zor.
Within 24 hours of launching the offensive, the Islamic State's official media wing announced the capture of several towns along the western bank of the Euphrates River.
Among the alleged areas captured, the Islamic State's media wing claimed their forces seized the key town of Al-Salihiyah.
If Al-Salihiyah has been truly recaptured by the Islamic State, the Syrian Army and their allies will be in serious trouble around the western bank of the Euphrates.
This latest offensive by IS is geared to have their forces reestablish themselves in the northwestern countryside of Albukamal, leaving them within striking distance of the aforementioned border-city.