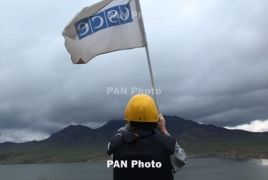 December 29, 2017 - 13:07 AMT
PanARMENIAN.Net - The OSCE seeks to more than double the number of the international observers monitoring the contact line between Nagorno Karabakh and Azerbaijan, Special Representative of the OSCE Chairperson-in-Office for the South Caucasus, Ambassador Günther Bächler has said.
According to him, a non-paper on a structured negotiation process for the settlement of the conflict has been created in 2014 but hasn't been used since.
"It's interesting that for the Nagorno Karabakh conflict we have some principles about final status on the table, but no real negotiation architecture. There is always a kind of urgency communicated by both sides to do something about implementing those visions and principles, and this leads to escalation and flaring up of fighting," he said.
"...After the 2016 April violence the little bit of confidence that was there is now challenged, too. The recent meeting of the presidents of Armenia and of Azerbaijan in Geneva is of course important and to some extent encouraging. However, just a bilateral meeting of the presidents will not automatically establish a process of negotiation."
"The 2014 OSCE Swiss Chairmanship developed a non-paper on a structured negotiation process with all elements and details of a full-fledged negotiation process; we have presented it repeatedly to succeeding Chairmanships and all the people involved, and maybe one day they will use it. Also, last year, under the German OSCE Chairmanship, we spent quite some time, first of all to develop the idea of strengthening the monitoring mission of the Personal Representative of the Chairperson-in-Office on the Conflict Dealt with by the OSCE Minsk Conference. There was agreement between the presidents in St. Petersburg, but it has not yet been implemented. It is a very small mission monitoring the line of contact and state border of Armenia and Azerbaijan; we speak about an increase from six to thirteen international staff. The Austrian Chairmanship has further developed this concept and recently there has been some movement in this question, so the perspectives for an implementation in 2018 appear realistic. At the same time we also drafted a non-paper on a mechanism for investigating ceasefire violations, another confidence-building measure that has yet to be implemented.