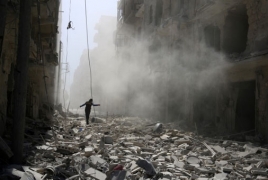 December 30, 2017 - 13:23 AMT
PanARMENIAN.Net - Two jihadist militias operating in rebel-held east Damascus, Ha'yat Tahrir al-Sham (formerly Jabhat al-Nusra, the Syrian branch of Al-Qaeda) and Ahrar al-Sham (Muslim Brotherhood affiliate), have joined forces and launched a powerful offensive against the Syrian Arab Army, targeting a vulnerable salient in the district of Harasta, Al-Masdar News reports.
According to reports, Ha'yat Tahrir al-Sham and Ahrar al-Sham opened up their offensive with bulldozer bomb driven by a Saudi jihadist. It is unclear if the suicide bomber his mark intended mark or if his charge was destroyed per-maturely by army forces.
Immediately after the bulldozer detonated, violent clashes erupted in the area surrounding a key army base, represented by a vehicle depot, currently held by pro-government forces. It appears the military installation is the main target of the jihadist offensive.
At first, rebel fighters managed to overrun some army positions near the vehicle depot, however, the Syrian Army responded by calling on artillery and airstrikes which in turn laid down a wall of suppressible fire with shells, rockets and bombs.
Syrian army forces also detonated a prepared tunnel bomb which helped in foiling an assault by militants from the northern approaches to the base.
Clashes are ongoing for the area despite some reports suggesting otherwise, however it appears for now the Syrian Army has managed to stabilize the situation and may soon launch a counter-attack to reclaim lost positions.