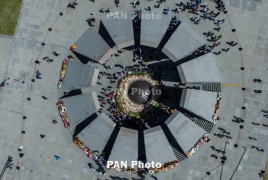 January 9, 2018 - 10:48 AMT
PanARMENIAN.Net - The World Union of Jewish Students (WUJS) recently formally recognized the Armenian Genocide at its 44th World Congress in Israel. Jewish-Australian advocate, Ariel Zohar was among the key speakers for the motion, reported the Armenian National Committee of Australia (ANC-AU), the Armenian Weekly reports.
Zohar, who was key behind the recent Victorian Young Labor motion recognizing the Armenian Genocide, was joined in his advocacy of this historic motion by Aaron Meyer and Yos Tarshish.
ANC-AU Executive Director Haig Kayserian thanked the WUJS on this important statement for human rights.
"We thank Ariel Zohar and his colleagues at the World Union of Jewish Students Congress for passing a motion that does not only recognize the genocide committed against the Armenians, Greeks, and Assyrians of the Ottoman Empire, it also 'condemns' and 'rejects' any 'attempt to deny, distort, or ignore the historical reality of this genocide'," Kayserian said.
"This sends a strong message to the governments of Israel, and others like Australia, that human rights are not there to be bargained for diplomatic gain, no matter the circumstance."
On his Facebook page, Zohar wrote: "Jewish students have a long proud history of perusing on the forefronts of social justice. Today is another important milestone in our activism history… WUJS will now be formally calling on governments of Israel, Australia and others to join a growing list of 28 countries around the world to formally recognize the sufferings and injustice of the Armenians and other minorities at the hand of the then Ottoman Empire (modern day Turkey)."
The WUJS was founded in 1924 by Hersch Lauterpacht with Albert Einstein as its first President.