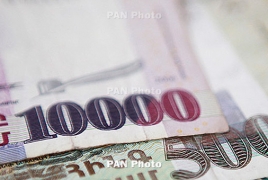 January 10, 2018 - 11:23 AMT
PanARMENIAN.Net - Armenia will post a 3.8% GDP growth in 2018 and a 4% growth in both 2019 and 2020 after an estimated 3.7% expansion in 2017, the World Bank said in its January edition of Global Economic Prospects.
In last year's June edition, however, the bank forecasted a 2.7% growth for 2017 and 3.1% for 2018.
According to the WB, the rise in production and export of metals contributed to the country's development, reflecting higher metal prices and improved domestic conditions.
Armenia's economy expanded just 0.2% in 2016. The government first expected to register a 3.2% growth in 2017 but revised its forecast later in the year. No official data is available for now.
Meanwhile, the international financial institution said Azerbaijan's economy declined by 1.4% in 2017 and will grow 0.9% in 2018, while Georgia is expected to see a 4% growth in 2018.
Globally, the Bank forecasts economic growth to edge up to 3.1% in 2018 after a much stronger-than- expected 2017.