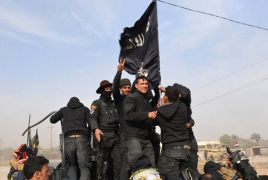 January 15, 2018 - 11:03 AMT
PanARMENIAN.Net - Forces of the Islamic State militant group are swallowing up vast areas of land throughout the provinces of Hama, Aleppo and Idlib in the wake of a mass withdrawal by rival jihadist militias, Al-Masdar News reports.
According to opposition sources, IS militants have scooped up more territory across northwest Syria within the provinces of Hama, Aleppo and Idlib. The latest push by the group's forces has seen them take control of ten towns and villages.
The new settlements to be captured by IS have been identified (again, by opposition sources) as Al-Musayyatibah, Rasm Madahy, Al-Dahiriyah, Al-Harsh, Tal ash-Shur, Maliha Kabirah, Khayriyah, Khayriyah Kabirah, Rasm Al-Barjis and Ghazilah.
Under the very real threat of encirclement by Syrian army-led forces, non-IS jihadist groups such as Ha'yat Tahrir al-Sham (Syrian Al-Qaeda-affiliate), the Turkistan Islamic Party (Al-Qaeda-linked) and Ahrar al-Sham (Syrian Muslim Brotherhood-affiliate) have been withdrawing from northeast Hama and south Aleppo.
The retreat by armed groups has left a territorial vacuum open in northeast Hama and southern Aleppo with IS now exploiting to gain control over as much land as possible before it is completely encircled by pro-government forces.