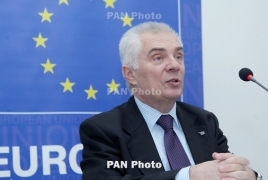 January 19, 2018 - 15:43 AMT
PanARMENIAN.Net - The European Union is financing five new civil society projects in Armenia to promote democratic governance and human rights which will become concrete examples of civil society taking initiative to information gathering and promoting public discussions. The latter will identify common views of citizens and passing key recommendations and concerns to politicians and government institutions and acting as a watchdog of their governments.
The projects reflect the common values identified and confirmed by the Republic of Armenia and the European Union in the Comprehensive & Enhanced Partnership Agreement between the European Union & Armenia (CEPA) signed in November 2017.
The new projects will engage Armenian citizens, including women and youth, in work on human rights, budget transparency, capacity-building of women's organisations, assessments and discussions of the situation in closed institutions, and enhancing the knowledge of citizens in rural communities and civil society organisations on steps to reducing their energy costs through new technology. Many project activities will involve and benefit Armenians in the regions during their 2-year implementation period.
"We believe the projects with a total budget of over 1,9 million Euro (EU contribution is 1,74 million Euro) will make a difference by addressing the issues of human rights advocacy, State budget monitoring, participatory rural development and economic empowerment of vulnerable groups as well as by creating new jobs, engaging citizens in decision-making processes and fostering public debates in the country on the most pressing issues relevant to every resident of Armenia," the bloc's delegation to Armenia said in a statement.