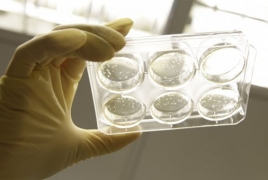 January 25, 2018 - 18:47 AMT
PanARMENIAN.Net - This year's Broad Clinical Research Fellows will apply stem cell-based approaches to two prevalent problems: non-healing bone injuries, which affect 5 million Americans each year, and neuroblastoma, the most common solid tumor in children, Medical Express reports.
Established by The Eli and Edythe Broad Foundation in 2015, the Broad Clinical Research Fellowships enable California-certified clinical scientists to engage in research that accelerates the translation of stem cell-related approaches to treat injury and disease. The fellowships are potentially renewable for a second year.
Abigail Zamora, a general surgery resident at Los Angeles County + USC Medical Center, will study the cancer stem cells that cause neuroblastoma. For children with high-risk metastatic neuroblastoma, the survival rate is currently less than 50 percent. Zamora hopes to improve this prognosis by understanding the molecular signals that drive cancer stem cells to be aggressive, and interfering with those signals.
Further characterization of the role of cancer stem cells in metastatic neuroblastoma may improve treatment and ultimately survival for children suffering from high-risk disease, according to Zamora.
She will perform this research in the lab of her mentor Eugene S. Kim, attending pediatric surgeon at Children's Hospital Los Angeles and associate professor of surgery at the Keck School of Medicine of USC.
"The high impact nature of this research project coupled with Abby's outstanding work ethic and previous basic science experience make her an ideal Broad Clinical Research Fellow," Kim said. "I am confident she will be successful and, through her efforts, make important contributions to both our understanding of the biology and cancer stem cells in neuroblastoma and our approach and implementation of novel targeted therapies."