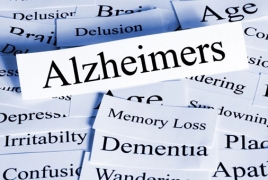 January 30, 2018 - 13:20 AMT
PanARMENIAN.Net - A revolutionary "brain pacemaker" that successfully slows down Alzheimer's disease was unveiled by scientists on Tuesday, January 30, according to The Express.
It is fitted directly into the skulls of sufferers and in tests has been found to help restore both focus and attention.
Symptoms improved in all three sufferers tested after the device – similar to a heart pacemaker – was fitted.
In results that have left researchers stunned, one elderly woman taking part in the trials was suddenly able to cook her own meals again – a task she had not been able to attempt in recent years.
LaVonne Moore, 85, is also playing her favourite hymns on the piano, years after being struck down by the degenerative brain condition.
The delicate surgery for fitting the device involves drilling holes in the skull and then implanting thin electrical wires into the frontal lobes of the brain.
These then send electrical impulses which stimulate parts of the brain.
Moore's husband Tom, 89, said her Alzheimer's had progressed far more slowly than he expected.