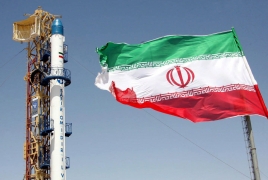 January 30, 2018 - 17:59 AMT
PanARMENIAN.Net - Iran will stay in the nuclear deal as long as its interests are secured, said the Iranian deputy foreign minister Abbas Araqchi said on Monday, January 29, according to IRNA.
"Upon feeling that we have not gained what we should have, and they are not loyal to their commitments, we ourselves will decide to act according to our interests; [even] if our benefits entail quitting the deal, we will undoubtedly do so. We won't hesitate," Araqchi told a TV program on Monday night.
Commenting on how to control US President Donald Trump, Araqchi said, "We are the ones to determine our interests in the JCPOA; if the sanctions are not removed, we won't file a complaint anywhere. We will make the final decision ourselves."
Araqchi said Iran monitors and decides where it gains from the deal and where it doesn't; "wherever our interests are not secured, we will decide, by using its 36th article, to quit the deal. We have given the right to decide for us to no international organization."
He said that Iran and the international community believe that the deal is beneficial to Iran; we both sell oil and attract investment.