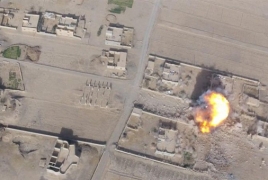 February 5, 2018 - 18:19 AMT
PanARMENIAN.Net - Islamic State militants have carried out yet another car bomb attack against U.S.-backed forces (of which Kurdish paramilitaries form a core component) amid an ongoing battle between the two belligerents for control of a key village in eastern Syria. The suicide bomber has been identified as an elderly man from Aleppo province, Al-Masdar News reports.
Recently, the Islamic State conducted a car bomb against a gathering of US-led Arab and Kurdish paramilitary fighters at the fortress village of Al-Bahra in the east Syrian province of Deir ez-Zor.
Based on images released of the attack by the terrorist group, the car bomb clearly hit its mark, destroying several military vehicles and possibly killing around a dozen US-backed fighters.
The driver of the car bomb was an elderly man by the name of Abu Khalil al-Halabi and as his name suggests, he came from Aleppo.
The battle between US-backed forces and IS for control of Al-Bahra has been raging for an entire month with no clear sign of ending; already, the village has swapped hands several times.