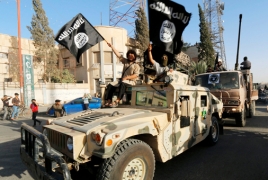 February 9, 2018 - 10:17 AMT
PanARMENIAN.Net - The Islamic State is preparing to make their last stand in the northeastern Hama, as their forces face-off against the Syrian Arab Army (SAA) near the key town of Surouj, Al-Masdar News reports.
Backed by heavy airstrikes from the Russian Aerospace Forces, the Syrian Arab Army was able to plow through the Islamic State's defenses on Thursday, liberating dozens of localities inside this terrorist pocket in northeast Hama.
According to a military report from Hama, the Islamic State is currently confined to 250 square kilometers of territory in northeast Hama and an incredibly small pocket to its southwestern axis.
With their forces trapped in these pockets, the Islamic State has three choices: 1) fight to the death against the Syrian Armed Forces 2) Fight their way out of the pocket to jihadist-held Idlib 3) surrender.
The group is most likely going to try and fend off the Syrian army assault; however, they will not be able to hold on for long, as the intense bombardment of their pocket becomes too much for their exposed fighters.