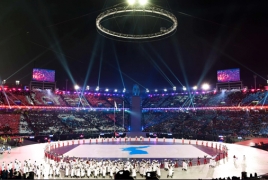 February 9, 2018 - 17:28 AMT
PanARMENIAN.Net - The 2018 Winter Olympic Games is underway in South Korea, with a number of world leaders attending the opening ceremony on Friday, February 9.
The parade of athletes started, according to custom, by the Greek team. The delegations of Ghana, Nigeria, South Africa and the Netherlands are right behind them. The delegations are entering in alphabetical order based on their names in the Korean language.
Skier Mikayel Mikayelyan was waving the Armenian flag, with head of delegation Gagik Bolshikyan, Olympians Katya Galstyan, Ashot Karapetyan, coaches Artur Mikayelyan and Seyran Harutyunyan, as well as head of Armenia's ski federation Gagik Sargsyan following right behind him.