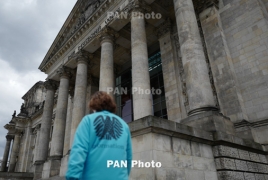 February 12, 2018 - 11:31 AMT
PanARMENIAN.Net - Turkey's delegate at a Berlin conference was expelled for denying the Armenian Genocide last November.
Milo Rau, director of the International Institute of Political Murder (IIPM), organised what he called "the first world parliament in the history of humanity" at Berlin's Schaubühne, with delegates from more than 60 countries.
The General Assembly aimed to critically engage public attitude towards current political institutions by performing an act of global participation with collaborative decision-making. As a result, a draft 'Charter of the 21st Century' was written, giving ground to the debate on the possibility of a World Parliament.
The event culminated with Rau expelling a Turkish delegate who used his speaking time to deny the Armenian Genocide, The Guardian says.
The director, who has described himself as "a moderator for things that stand outside my control", later apologised for having invited the politician in the first place.