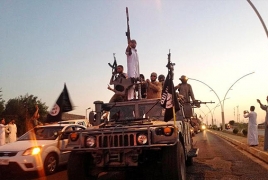 February 14, 2018 - 11:01 AMT
PanARMENIAN.Net - Islamic State militants operating in the east Syrian province of Deir ez-Zor encircled U.S.-backed Kurdish forces near the border with Iraq during a swift and sudden assault, Al-Masdar News reports.
Maneuvering across open desert whilst launching distraction attacks along the eastern shore of the Euphrates, IS bypassed the main zones of fire covered by Syrian Kurdish positions in the As-Sosa region of Deir ez-Zor, hitting them in the flank.
Islamic State forces employed technicals and light infantry in a hit-and-run style attack all-too typical of the jihadist faction. The objective of the raid was to kill as many U.S.-backed paras as possible.
The assault would only be beaten-off with the assistance of Iranian-backed forces in Iraq – specially the 13th Brigade of the Popular Mobilization Units – who crossed over from the border to relieve a decimated Kurdish platoon, managing to save 11 U.S.-backed fighters.