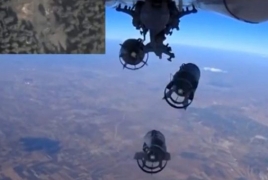 February 21, 2018 - 12:19 AMT
PanARMENIAN.Net - On the night Tuesday to Wednesday (February 20-21), Russian and Syrian airpower teamed up over the skies of Damascus, blasting militant defenses across rebel-held East Ghouta with dozens of airstrikes.
According to military-affiliated sources, Russian and Syrian warplanes conducted well in excess of forty pin-point airstrikes within a matter of hours.
The joint bombardment targeted rebel tactical positions, gatherings, equipment and movements across the militant-controlled districts of Douma, Hamourya, Saqba, Zamalka, Ayrn Tarma and Uataya.
Moreover, Syrian Army rocket artillery delivered dozens of ground to ground missiles strikes across East Ghouta in supplementation to the airstrikes by Russian and Syrian jets.
According to journalist Ibrahim Joudeh, the escalation of air and artillery attacks against militant groups by pro-government forces in eastern Damascus is a sure sign that the Syrian Army will soon commence its much anticipated ground offensive to begin the reduction of the long-standing East Ghouta pocket.