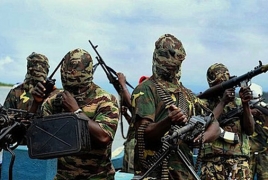 February 24, 2018 - 12:40 AMT
PanARMENIAN.Net - More than 100 girls are reported missing after a Boko Haram school attack in northeast Nigeria that President Muhammadu Buhari on Friday, February 23 called a "national disaster," The Japan Times reports.
But residents in the remote town of Dapchi in Yobe state said they had been left vulnerable to attack because soldiers had been withdrawn in the last few weeks.
Nigeria's government has been scrambling to contain a growing crisis that has revived memories of the 2014 mass abduction of more than 200 schoolgirls from Chibok that shocked the world.
The attack has also raised questions about the military's repeated claims that the Islamist militants are on the verge of defeat after nearly nine years of bitter fighting.
Terrified pupils fled the boarding school on Monday night when heavily armed fighters in military fatigues and turbans stormed the town, shouting "Allahu akbar" ("God is greatest").
The authorities initially denied that any student had been kidnapped, but dozens of girls have failed to return home and fears have grown that they may have been seized.
Bashir Manzo, whose 16-year-old daughter, Fatima, is among the missing, said parents had set up their own support group to push for answers — and secure the release of their children.
"Our first step was to compile a comprehensive list of all the missing girls. So far, we have compiled the names of 105," he said.
Hopes were raised on Wednesday evening when the spokesman for Yobe Gov. Ibrahim Gaidam appeared to confirm the abduction and said "some" of the girls had been rescued.
But Gaidam on Thursday questioned whether there had been an abduction at all. His spokesman apologized and said they had been "misled" with inaccurate information.